List of gardens discussed and described by:
J C Shepherd and G A Jellicoe: Italian Gardens of the Renaissance

Villa Medici, Fiesole
Villa Madama, Rome
Villa Celsa, near Siena
Villa d'Este Tivoli
Villa Pia, Vatican Gardens
Palazzo Farnese, Caprarola
Villa Piccolomini, Frascati
Villa Lante, Bagnaia, near Viterbo
Boboli Gardens, Florence
Villa Bombicci (Collazzi), near Florence
Villa Capponi, Arcetri, Florence
Palazzo Podesta Genoa
Villa Bernardini, Saltocchio, Lucca
Villa Marlia, near Lucca
Villa Torlonia, Frascati
Villa Gamberaia, Settignano, near Florence
Villa Poggio Torselli
La Pietra, near Florence
Villa Corsi-Salviati, Sesto near Florence
Villa Palmieri, near Florence
Villa Garzoni, Collodi, Pescia, near Lucca
Villa Cetinale, near Siena
Villa Cuzzano, near Verona
Villa Dona Dalle Rose, Valzanzibio, near Padua
Villas Gori and Geggiano, near Siena
Villa Crivelli, Inverigo, near Milan
Collegio Rosa, Spello

List of gardens discussed and described in:
Edith Wharton: Italian Villas and their Gardens

Villa Albani
Villa Aldobrandini
Villa Belcaro
Villa Bombicci
Villa Borghese
Villa Cafaggiulo
Villa Cagnola
Villa Cambiaso (Paradiso)
Villa Canipi
Villa Capponi at Arcetri
Villa Capra
Villa Caprarola
Villa Careggi
Villa Carlotta
Villa Castel Pulci
Villa Celimontana
Villa Cetinale
Villa Chigi
Villa Cicogna
Villa Conti
Villa Corsini
Villa Crivelli
Villa Cuzzano
Villa Danti
Villa Doria in Genoa
Villa Durazzo-Grapollo
Villa d'Este at Cernobbio
Villa d'Este at Tivoli
Villa Falconieri
Villa Fonte all' Erta
Villa Gamberaia
Villa Giacomelli
Villa Giustiniani
Villa Imperiali at San Fruttuoso
Isola Bella
Villa Lancellotti
Villa Lante
Villa Lappeggi
Villa Lomellini
Villa Ludovisi
Villa Madama
Villa Malcontenta
Villa Medici
Villa Mondragone
Villa Muti
Villa Negroni
Villa Palazzina, La,
Villa Pallavicini at Pegli
Villa Pallavicini alle Peschiere
Villa Palmieri
Villa Pamphily
Villa di Papa Giulio
Villa Paradisino
Villa Petraia
Villa Pia
Villa Pisani
Villa Pliniana
Villa Poggio a Caiano
Villa Pogglo Imperiale
Villa Pratolino
Villa Sacchetti
Villa Scassi
Villa Torlonia
Villa Valmarana
Villa Val San Zibio
Villa Vicobello
Villa Visconti di Saliceto

Edith Wharton's Italian Gardens
Vivian Russell




Buy it at Amazon
Edith Wharton published her first book on Italian garden architecture, "Italian Villas and Their Gardens", in 1904. She was a lifelong Italophile as well as a lifelong gardener. Nineteen of the gardens Wharton and her illustrator Maxfield Parrish brought to public attention are virtually unchanged by the passage of the single century since her descriptions were written. Russell has recaptured both the essence of the gardens themselves and Wharton's experience of them in a series of excellent photographs and historical summaries of each garden.

Garden Lover's Guide to Italy
Penelope Hobhouse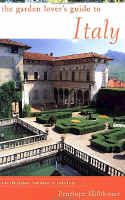 Buy it at Amazon
Your webmaster owns and, believe it or not, has actually read all the books listed in the Tuscan gardens bibliography. Of the in-print guides to the gardens of Italy, this book by Penelope Hobhouse is the guide book I recommend most highly. Concise, with beautiful illustrations and useful information about all the gardens that matter.

Italian Gardens: From Petrarch to Russell Page
Helena Attlee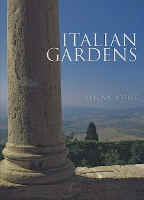 Buy it at Amazon
Illustrated with contemporary paintings, drawings and prints as well as photographs of the gardens as they are today. Attlee, an expert in the field, starts with Petrarch who was still looking to mediaeval chronicles for advice on how and when to plant, and goes on through the Renaissance and to modern design.