The Villa Poggio Torselli is situated just outside San Casciano Val di Pesa, immersed in the greenery of vineyards and olive groves, and was recorded in the land registers as early as the beginning of the 15 C. It is traversed by a monumental boulevard of cypresses and boasts an extraordinary panorama across a typical landscape of the Tuscan hills.

The villa was built in the 15 C by the Machiavelli family and has passed through the hands of the more important representatives of the Florentine nobility (Corsini, Antinori, Capponi) up to the Orlandini family, to which it owes its last transformation in 1690. It is probable that the garden dates back to this era also. It is formed of a park area on the northern side and by an Italian garden, set on two stepped terraces, to the south.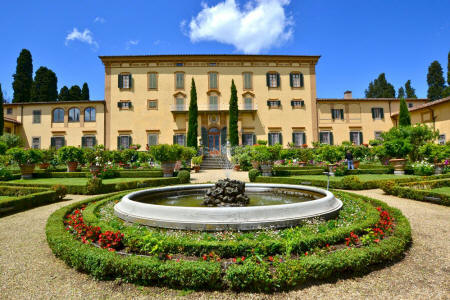 Take a wine tour to Villa Poggio Torselli
and visit the gardens and interior of the villa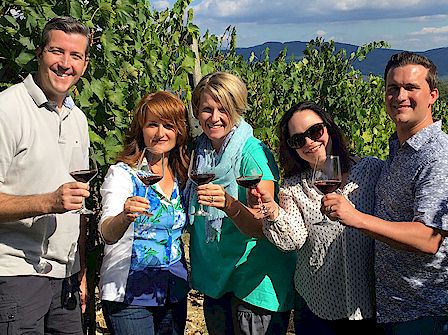 Villa Poggio Torselli is a private villa that can be visited exclusively as part of a wine tour offered by Angela Saltafuori. More about the wine tour of the Machiavelli family's Chianti villa.
Part of the original flower garden is preserved with oblong flower beds watered by an ingenious channelled irrigation system that has an important historic value, being one of the best preserved in Tuscany. The flower garden underwent a first restoration around 1925 with the renewal of its box-tree hedges and a second, by the current owners, who during the works brought to light one of the original flowerbeds with its irrigation channels. The recent conservation work of these elements also envisaged the re-introduction of vegetation typical of late17th century gardens. Dwarf fruit trees, roses common to that era, aromatic herbs, perennial, annual and bulb plants render the garden interesting throughout the year and function as a picture frame to the architecture of the three-storey building, with its façade decorated with stuccoes and statues, and the baroque chapel.

A visit during the summer season offers the opportunity to admire the centuries-old collection of potted citrus trees in the open-air, otherwise maintained in the splendid "limonaia".
More about Villa Poggio Torselli.