Platt, Charles A.; Morgan, Keith, N.: Italian Gardens (1884, revised edition Thames and Hudson, 1993)

Anon. [Grahame, Georgina S.]: In a Tuscan Garden (John Lane The Bodley Head, 1902). Discussion about the author this book.

Wharton, Edith: Italian Villas and Their Gardens (Century, 1904)

Elgood, George S.: Italian Gardens (Longmans, Green, 1907)

Cartwright, Julia: Italian gardens of the Renaissance and other studies (Smith Elder, 1914)

Eberlein, Harold Donaldson: Villas of Florence and Tuscany (Lippincott, 1925)

Shepherd, C; Jellicoe, G.A.: Italian Gardens of the Renaissance: (Alec Tiranti, 1953)

Masson, Georgina: Italian Gardens (Thames and Hudson, 1961)

Acton, Harold; Zielcke, Alexander: The Villas of Tuscany (Thames and Hudson, 1984)

Chatfield, Judith: Tour of Italian Gardens (Rizzoli, 1988)

Clarke, Ethne; Bencini, Raffaello: Gardens of Tuscany (Rizzoli, 1990)

Lazzaro, Claudia: Italian Renaissance Garden: From the Conventions of Planting, Design, and Ornament to the Grand Gardens of Sixteenth-Century Central Italy (Yale University Press, 1990)

Pool, Janet; Albrizzi, Alessandro: Gardens of Florence (Rizzoli, 1992)

Cresti, Carlo; Listri, Massimo: Villas of Tuscany (Vendome Press, 1992)

Bencini, Raffaello; Bajard, Sophie: Villas and Gardens of Tuscany (Terrail, 1993)

Hobhouse, Penelope: Garden Lover's Guide to Italy (Mitchell Beazley / Princeton Architectural Press, 1998) This concise, well-illustrated guide book is highly recommended by your web master.

Russell, Vivian: Edith Wharton's Italian Gardens (Art & Architecture, 1998)

M. Fantoni, Marcello; Flores, Heidi: Pfordresher, John: Cecil Pinsent and his Gardens in Tuscany (Edifir, 1999)

Attlee, Helena; Ramsey, Alex: Italian Gardens (Ellipsis Arts, 2001)

Pozzana, Mariachiara: I giardini di Firenze e della Toscana. Guida completa (Giunti, 2001)

Zoppi, Mariella: Guida ai Giardini di Firenze. Gardens of Florence. (Alinea, 1996, 2001)

Bernandi, Judith: Italian Gardens (Rizzoli, 2002)

Sgaravatti, Mariella; Ciampi, Mario: Tuscany Artists Gardens (Verba Volant, 2005)

Attlee, Helena: Italian Gardens: From Petrarch to Russell Page (Frances Lincoln, 2006)

Campbell, Katie: Paradise of Exiles: The Anglo-American Gardens of Florence (Frances Lincoln, 2009)

Clarke, Ethne: An Infinity of Graces. Cecil Ross Pinsent. An English architect in the Italian landscape. (W.W. Norton, 2013)
Pref. Wade, Judith: Grandi Giardini Italiani The Italian Garden Guide 2016. (Villa Erba, 2016)

Italian Gardens
Judith Wade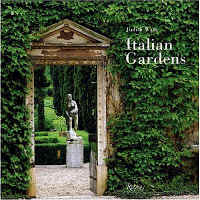 Buy it at Amazon
Since the earliest Roman settlements, Italians have been expertly cultivating their land into beautiful and creative displays of nature, combining terraces and walkways, plants and flowers, water and statuary. The Italian garden has greatly evolved throughout the ages. Early Italian gardens made use of citrus, the ancient art of the topiary was revived in the Renaissance, and the refined parterre was developed to spread forth from the great palazzos and provide a dramatic view from their upper stories. Later, in the nineteenth century, the influence of the English garden took hold, with its meandering paths, asymmetrical lakes, and blossoming trees. In Italian Gardens, Wade explores more than five hundred years of the Italian garden tradition, introducing the reader to thirty-seven of the most captivating gardens of Italy, in eleven regions are visited, from Lombardy and Piedmont in the north, to the island of Sicily in the south.

Italian Gardens: A Guide
Helena Attlee & Alex Ramsey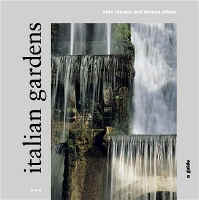 Buy it at Amazon
For more than 500 years the gardens of Italy been irresistibly attractive. Many of the greatest artists and architects of the Renaissance were employed in their design and ornamentation. Italian Gardens is a practical and beautifully illustrated guide to more than 60 of the finest examples, from the seventeenth-century gardens of Castello d'Aglie in Piedmont to the thirteenth-century Moorish garden of the Villa Rufolo in Campania. This book provides histories and descriptions, as well as detailed information on locations, facilities, opening times, and accessibility.