The Bardini Gardens offer wonderful views of Florence from its 4 hectares of parkland between the left bank of the Arno River, Montecuccoli Hill and the mediaeval wall. Originally it was an arrangement of walled orchards near Mozzi Palace covering the whole of the hill behind it. In the 18 C, Giulio Mozzi, who loved gardens, enriched the property with a long fountain wall with a multi-material mosaic at the bottom. In the mid-19 C the baroque garden was enlarged through the purchase of the adjoining Anglo-Chinese garden of Villa Manadora, created by Luigi Le Blanc at the beginning of the nineteenth century. In the second half of the 19 C, the Carolath Benten princes acquired the whole property and enriched the garden with Victorian details.

In 1913 the antiquarian Stefano Bardini purchased the complex consisting of Mozzi Palace, the baroque garden and the Anglo-Chinese garden with a remaining agricultural portion and Manadora Villa. Bardini acted unscrupulously, constructing an avenue to travel by car from the Arno to the villa, destroying the walled gardens of mediaeval origin, and joining the two existing buildings on Costa San Giorgio. The death of his son Ugo in 1965 gave rise to a long episode concerning inheritance. This ended in 1996 thanks to the then minister Paolucci who arranged for the conditions set by the deceased person to be met.
In 2000, the Ente Cassa di Risparmio di Firenze (Florence Savings Bank), acting through the Fondazione Parchi Monumentali Bardini e Peyron (Bardini and Peyron Monumental Parks Foundation), began the restoration of the complex. It took almost five years to restore the garden's identity and wealth in terms of composition and plants.

In the agricultural park, in which fruit trees in the Tuscan tradition have been planted, there is a circular viewpoint from which one enters a tunnel of wisteria and comes upon no less than 60 varieties of hydrangea. The baroque flight of steps is the most picturesque part of the garden, with its viewpoint over the city and the six fountains with their multi-material mosaic bottoms. Bourbon roses and remontant irises have been planted along the flight of steps. In the lowest part there is a garden with herbaceous and graminaceous borders and the grassy theatre that makes use of a cavity in the garden.

In the English-style wood, which formed part of the Anglo-Chinese garden, there is a lawn with azeleas where one can also see ferns, vibernums, camellias, and a collection of citrus fruits. From Via de' Bardi the route winds up towards the villa, offering views of both the garden and the monuments of Florence.

On reaching Villa Bardini you go out into Costa San Giorgio and in a few minutes you reach the Boboli Garden, from which you can descend back towards the city, covering 7 km altogether amid greenery.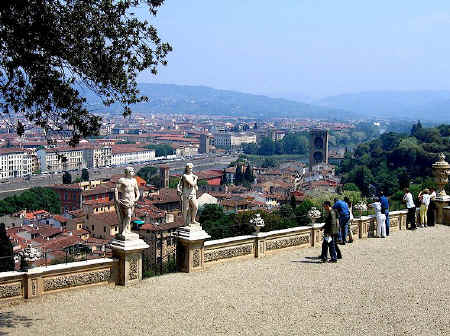 Panoramic view out over the Arno and Florence from the Bardini Gardens